Collaborative Solutions
Workflow Management Solutions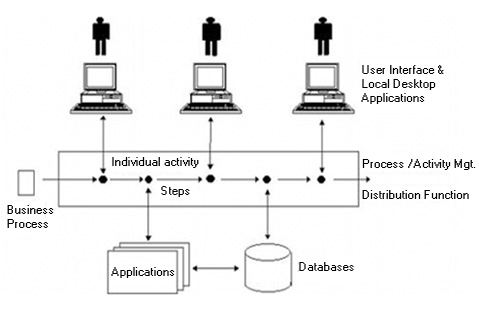 Workflow Management Systems allow organizations to define and control the various activities associated with a business process. In addition, many management systems also allow a business the opportunity to measure and analyze the execution of the process so that continuous improvements can be made.
Such improvements may be short-term (e.g., reallocation of tasks to better balance the workload at any point in time) or long-term (e.g., redefining portions of the workflow process to avoid bottlenecks in the future).
Most workflow systems also integrate with other systems used by the organization: document management systems, databases, e-mail, office automation products, Geographic Information Systems, production applications, etc. This integration provides structure to a process which employs a number of otherwise independent systems. It can also provide a method (such as a project folder) for organizing documents from diverse sources.
Content Management Solutions
Our Content Management Solutions (CMS) are designed to do the following:
Allowing number of people to contribute to and share stored data
Controlling access to data, based on user roles (defining which information users or user groups can view, edit, publish, etc.)
Aiding in easy storage and retrieval of data
Providing customized reports
The data itself can be defined as nearly anything: documents, movies, pictures, phone numbers, scientific data, and so forth. Serving as a central repository, the CMS increases the version level of new updates to an already existing file.
Our web content management solutions are designed to simplify the publication of web content to web sites - in particular, allowing content creators to create, submit and manage contents without requiring technical knowledge of any Web Programming Languages or Markup Languages such as HTML or the uploading of files.
The CMS lets you leverage valuable content assets with strong content reuse capabilities across sites and channels, reducing the cost to publish and maintain high quality content. It allows you to transform the audience experience with personalization, like rules-based content selection tailored to a user's preferences for device, locale and more.
Employee Self Service
Employee Self Service (ESS) is an application that provides employees with access to their personal records and their payroll details. The most common features of ESS allows employees to change their own address, contact details and next of kin.
The types of transactions supported by ESS applications are almost limitless. Besides benefit and payroll issues, they can be used to automate procedures related to internal job postings, time and attendance reporting, and training enrollment, to name just a few.
In addition to transactional capabilities, ESS applications can provide employees with a wealth of useful information (hence the frequently-used term "knowledgebase"). An organization's plans, policies, and procedures are transformed into meaningful answers to its employees' inquiries. With the use of a search mechanism and/or site map, employees can easily locate the information they need. Once there, they have the option of "drilling down" to more specific information or jumping to linked pages that contain related information
Two attributes of ESS applications make them especially powerful:
intuitive approach to the information and
personalization of content.
Employees oftentimes know exactly what they are looking for: Their co-pay amount, number of unused personal days or taxes withheld from last month's paycheck. Other times, however, an employee experiences something in his or her personal or professional life - marriage, birth of a child, serious illness, layoff, retirement, etc. - and is not aware of the steps that should be taken as a result
Included in Chic's ESS is the ability for employees to apply for leave and have that application directed to the employees manager for consideration. This simple workflow not only follows the organizational hierarchy but also helps in maintaining the Leave balances of the employees. The workflow also automates the process of salary processing with up to date information on leaves and work days. The application also comes with an option where employees can change their bank account details and get details of payslips, both current and historical.
The principal advantage for employers providing ESS is that it is a more efficient means of collecting changes to employees details and distributing payroll related details to employees. This is particularly true for organizations dispersed over a number of physical locations. Human Resource Management professionals increasingly value ESS as a means of empowering employees.
Document Management Solutions
Document Management Software that includes Digital Asset Management, Workflow, Records Management, Document Archiving, Document Storage, Electronic Forms, ISO Document Control and Paperless Office modules under one integrated EDMS software suite
Move your critical business documents from PC workstations and laptops to a central Document Management System and manage your documents like your success depended upon it... because it does!
Document management software allows you to take control of the administration and monitoring of document life cycle stages (Capture, Create, Classify, Share & Protect, Retain, Archive and Destroy) of critical business documents and records. It will also reduce your risk and costs associated with e-discovery and a growing number of regulatory compliance and Corporate Governance processes.
Manage your limited resources effectively by automating the most difficult tasks associated with revision control, imaging, document indexing, electronic forms, document delivery, document retrieval, searching and finding relevant content, routing documents for approval (workflow) and creating custom portals for your staff, customers and business partners.
Issue Tracking and Management
Issue Tracking and Management Solution (also trouble ticket system, support ticket or incident ticket system) manages and maintains lists of issues, as needed by an organization. Issue tracking systems are commonly used in an organization's customer support departments to create, update, and resolve reported customer issues, or even issues reported by that organization's other employees. An issue tracking system often also contains a knowledge base containing information on each customer, resolutions to common problems, and other such data.
The "Issues" created in the issue tracking system contains information about support interventions made by support staff or third parties on behalf of an end-user who has reported an incident or an issue. Typically the Issue will have a unique reference number, or tracking number which is used to allow the user or support staff to quickly locate, add to or communicate the status of the user's issue or request.
A typical example of an issue management workflow is as follows:
An issue is created in the application, entering all relevant data. A mail notification is sent to the concerned department head and/or the concerned person.
As work is done on that issue, the system is updated with new data by the concerned department or person. Any attempt at fixing the issue is noted in the issue system.
If the issue is not resolved within a specified time period then the issue gets escalated as per the escalation policy and the organizational hierarchy.
After the issue has been fully addressed, it is marked as resolved in the issue tracking system. A mail is sent to the person who has raised the issue.